Mobile Petrol Pumps: The Future is Here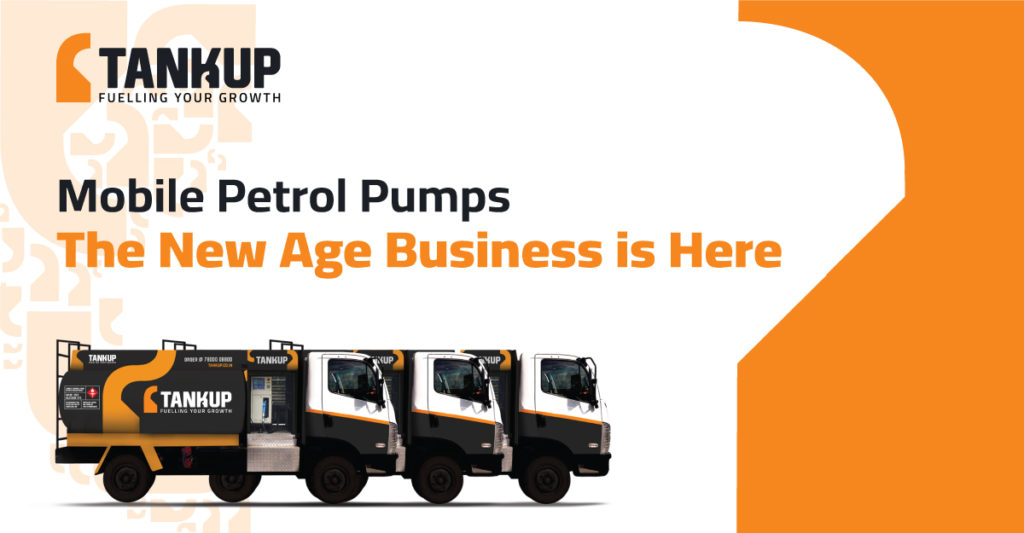 According to the OPEC World Oil Outlook 2021, the contribution of diesel and petrol to the country's oil demand will rise from 51% to 58% by 2045, given the increasing population and rapid urbanisation from 2020 to 2045.[1] The demand for diesel in industries like mining, healthcare, manufacturing, construction, telecommunications, etc., is likely to increase significantly, highlighting a potential market for mobile petrol pumps or door-to-door diesel delivery. 
What is a Mobile Petrol Pump?
A bowser, an innovative vehicle with a fuel dispensing unit, is used as a mobile petrol pump. It meets all safety standards laid down by the PESO (Petroleum and Explosives Safety Organisation) and comes in 3 capacities – 3 Kl, 4 Kl, and 6 Kl.
IoT enabled mobile bowsers with geofencing prevent fuel theft and pilferage and offer high return on investment (ROI).
Problems with Traditional Petrol Pumps
The procurement of diesel from traditional retail petrol pumps using bottles, canisters and jerry cans is inappropriate and unorganised, leading to wastage of diesel. Furthermore, these methods of procurement are also dangerous and damage the environment. There is, therefore, a need for more sustainable, safe, and cautious methods to procure and transfer diesel.
There are also challenges associated with setting up retail petrol pumps such as high investment in retail petrol pumps and significant expenditure on operations. Moreover, the entire investment and set-up process of a traditional petrol pump can be time-consuming and hectic given the amount of paperwork required. It also takes considerable time to break even and gain profits.
Benefits of Mobile Petrol Pumps
As opposed to conventional retail petrol pumps, mobile petrol pumps solve various problems including pilferage, delayed delivery, adulteration, inconvenience, and lack of transparency.
Theft of diesel is not an uncommon practice in India. However, mobile petrol pumps offer a solution for this problem by leveraging technology for automation and geofencing. Technology is further used to create a centralised locking system to prevent diesel theft.
Mobile petrol pumps ensure safe and timely deliveries without any hassles or delays. It is further guaranteed that the fuel delivered is not wasted or spilt on the way.
Unclean petrol vessels and adulterants like kerosene lead to the adulteration of diesel, which can have significant health hazards. Adulterated diesel emits unhealthy and dangerous levels of toxins such as carbon monoxide, hydrocarbons and carcinogenic pollutants. On the other hand, mobile petrol pumps are designed to protect themselves from unadulterated petrol, ensuring that customers receive only the best.
Transparency and reliability
Customers and consumers can easily place their orders and then keep track of their bowsers at their fingertips using smart order and live vehicle tracking. The invoices are also generated automatically. This ensures transparency throughout the process. Customers can further check their order history and previous reports.
Mobile petrol pumps ensure that the diesel reaches their customers and consumers without any hassle. This improves customer experiences and relationships.
Mobile Petrol Pumps – A Lucrative Business Opportunity
The Government of India promotes it under the aegis of the Department of Promotion of Industry and Internal Trade (DPIIT), Ministry of Commerce and Industry.
It provides an opportunity to work with Oil Marketing Companies.
The cost of setting up a Mobile Petrol Pump is 1/10th of the investment of a petrol pump.
There is zero investment in land.
Minimal infrastructure for parking is required.
Flexibility to operate in multiple geographies across state.
There are attractive returns on investment.
There is high market potential.
There is an early mover advantage.
Conclusion
With the scope and potential of the fuel industry, the Government of India has intended to develop a strong ecosystem for entrepreneurs in the mobile fuelling sector by promoting its initiative of door-to-door delivery or mobile petrol pumps. This initiative will not only create employment opportunities for budding entrepreneurs but also highlight how lucrative the mobile petrol pump business is.
TankUp is a 'Mobile Fuelling Solutions' company that empowers Fuel Entrepreneurs (FuelEnts) to build, manage and grow a successful business of Door to Door Delivery (DDD) of High Speed Diesel (Diesel).